Social Market Analytics, Inc. (SMA) partnered with the Cboe in January 2017 to release the SMLCW Index 'Cboe - SMA Large Cap Weekly Index'. The SMLCW Index is a Long Only Index that has outperformed since it was released and has continues to outperform in the recent market volatility and sell-off. In the chart below the S&P500 is flat for the year and SMLCW is up nearly 5% YTD.
SMA has two U.S. Patents around its machine learning and NLP processes that produce predictive analytics at the security level across U.S. and UK stocks, ETFs, FX, Futures, and Crypto Currencies
The SMLCW portfolio is an equally-weighted Long Only portfolio of 25 stocks drawn from the CBOE Large-Cap Universe with the highest average 5-period S-Scores. Stocks in this universe (a) are in the top 15% capitalization tranche of stocks that are the underlying for options listed on the CBOE (approximately 3000 stocks) and (b) have a market capitalization greater than or equal to $10 billion.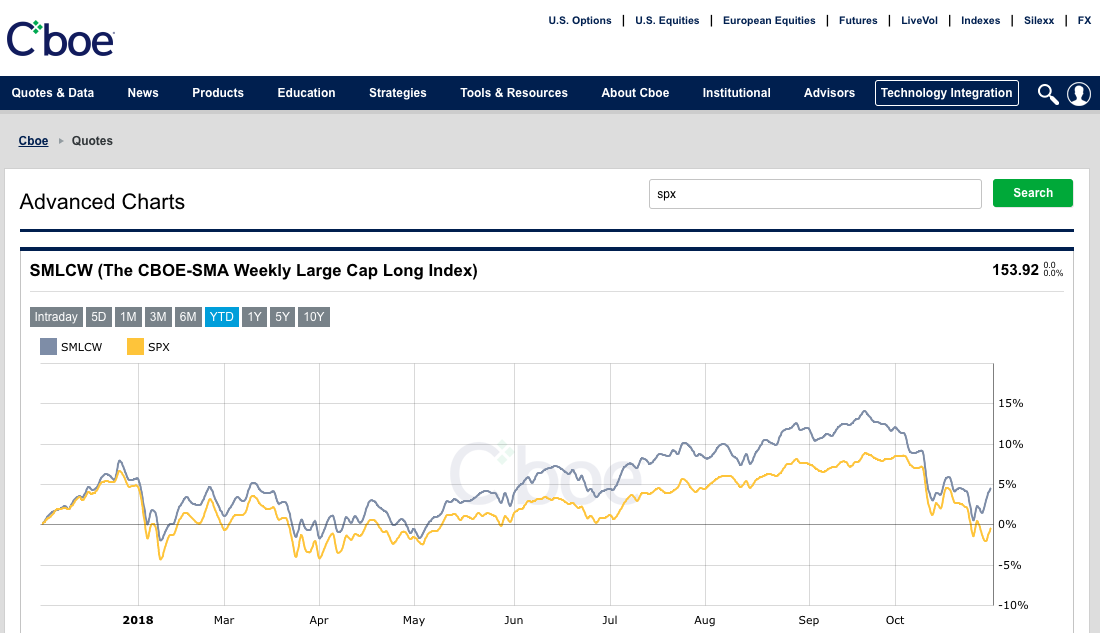 The CBOE Large-Cap Universe is reconstituted quarterly on the third Friday of the month. The SMLCW portfolio is reconstituted every Friday at 8:30 am CT, based on average 5-period SMA S-Scores at 8:10 am CT. A period is a date on which there is sufficient social media data to derive SMA S-Scores. Stocks are deemed sold and purchased at market-on-open prices. The portfolio is held until 8:30 am CT on the next Friday. If Friday is a business holiday, the portfolio is rebalanced on the preceding Thursday.
To learn more, visit SMA at www.socialmarketanalytics.com or the Cboe website at http://www.cboe.com/products/social-media-indexes