Social Market Analytics aggregates the intentions of professional investors as expressed on Twitter.  We identify these professional investors using our proprietary twelve factor ranking system.  One factor is the forward accuracy of Twitter accounts.  If a Twitter account is Tweeting bullishly based on our patented NLP process and the security subsequently moves higher over specified periods that account is deemed to be accurate over that period.  Overall accuracy is aggregated across time for each account.  We have been tracking account accuracy out-of-sample for the past seven years. - it is impossible to recreate this data.  SMA is the only provider with out-of-sample account accuracy.  We found significant variability in account accuracy for supposed professional investors.  Social Market Analytics account scoring algorithms are extremely effective in excluding non-professional professionals.
SMA's Accurate Account algos aggregate expectations from the most accurate Twitter accounts for individual securities for a specified time period: 1-Day, 2-Day, 1-Week, and 1-Month holding periods.   Definition of 'Accurate' – correctly identifying directional movement of the security's price.  We do not include size of move - their sentiment is positive and the security moved higher.
We calculate consensus expectations of these accurate accounts on individual securities.  Accurate account universes differ across holding periods. Some accounts are more accurate in the short-term (Day trades), while others are more accurate for longer holding periods (up to one month).
Securities with significant consensus for both long and short are available through our API's, Widgets and in Reports.  Below is a widget identifying securities with the most positive and negative consensus.   In this example, SMA's accurate account universe is currently 100 bullish on MCO over the next 24 hrs.  Positive, negative and neutral are identified separately.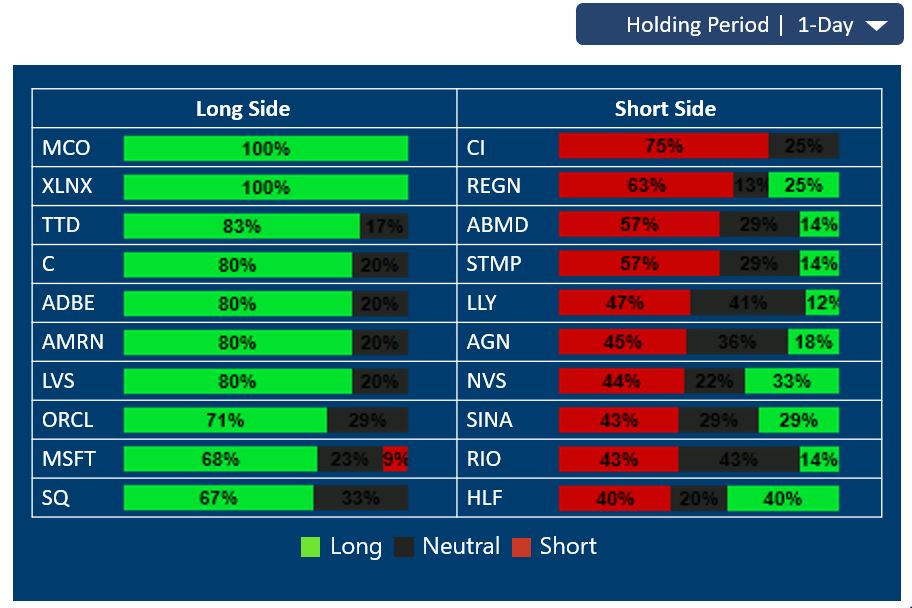 To discuss getting access to these or any other SMA data feed or widget please contactus@socialMarketAnalytics.com
Thanks,
Joe