Thematic Investing seeks to identify macro level trends and the underlying investments that stand to benefit from those trends. This Blog highlights 'Drones' as a Thematic Investing model example. Drones are now in the news on almost a daily basis and used by listed Companies across Sectors. Companies like Amazon, Allstate, and Goldman Sachs are all 'users' of Drones, but who are the Companies that are Drone manufactures or are providing the Technology in Drones? Extracting Themes, such as Drones, from Regulatory Filings and Company Reports is now possible through Machine Readable Filings (MRF) and Social Market Analytics, Inc. (SMA) Complex Topic Model engine. SMA can build a Thematic Investing model using SEC Edgar Regulatory Filings back to 2006 and process the Textual Data programmatically in hours.
Social Market Analytics, Inc. (SMA) has partnered with S&P Global Market Intelligence on 'Machine Readable Filings' (MRF). Machine Readable Filings is the first product to provide parsed textual data of SEC Edgar Regulatory Filings at the Total Document, Part, Item, Sub-section, and Notes level with historical baselines back to 2006. The Textual Data, Sentiment NLP, and Word Count values are provided by SMA's patented technology. Extraneous information such as page numbers, images, and tables are removed. SMA is currently developing the same structured data values on International Company Reports which will be released in Q1 2021.
Machine Readable Filings (MRF) used in conjunction with SMA's 'Complex Topic Model' engine allows for the programmatic curation of Thematic Investing themes.
SEC regulatory filings are formal documents reported to the U.S. Securities and Exchange Commission (SEC) that contain important information about companies such as financial statements, forward looking statements, risks associated with the company, etc. Every U.S. publicly traded company is required to submit regulatory filings to the SEC.
Companies discuss their forward focus in these documents, and you can glean a lot about a company's direction or risks by the topics they discuss in filings. With SMA's topic model capabilities you can quickly scan documents to look for curated topics. If you are searching for companies investing in a specific topic, this functionality makes the process much more efficient. As an example, if you want to find companies with negative exposure to Covid-19 you can search for Covid-19 mentions in the Risk Factors section of a 10-K or 10-Q. If you would like to find a company's strategy for handling their business during Covid-19, you may want to search in the Management Discussion & Analysis section.
In this blog we will be illustrating the power in SMA's topic searching by identifying companies with the most mentions of the topic 'Drones' in their filings. The Topic Model data extraction across ~1.4M documents going back to 2006 only takes a few minutes. The MRF textual data structure also enables the creation of baselines.
For this "Drone" Thematic blog we:
• Broke the 'Drones' thematic Topic Model down by Company, Filing type, and Sector. The data set covers filings from January 2006 - October 2020
• The 'Drones' Topic Model captures every relevant 'Drone' word/phrase including synonyms (inclusion) within SEC filings
• We exclude mentions of Drones where it does not apply to the Topic Model, e.g. UAS Drone Corp. mentioning their own name in a filing
• The data is run across all SEC Edgar Filings including 6-K ADR. Some of the captured Companies are overseas. Filing types can be excluded as well.
Machine Readable Filings tracks over 20 filing types. The distribution of filings containing 'Drone' mentions is below. Majority of the documents containing 'Drone' mentions since 2006 tend to be 10-Ks and 10-Qs because they are the most detailed documents. However, in 2020, the amount of 6-Ks mentioning drones almost triple from 2018, making 6-Ks the most hit document for the year so far. This suggests that drone usage for companies could be growing faster internationally than in the United States.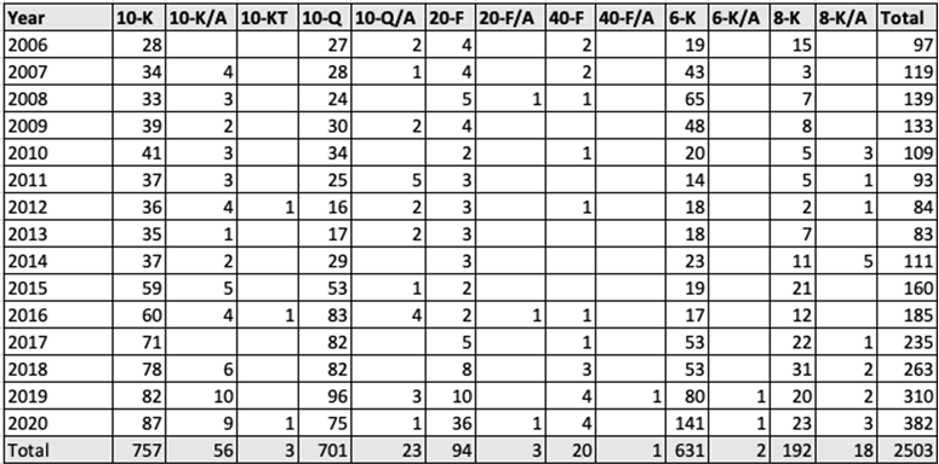 As illustrated by the chart below, 'Drone' mentions have grown more than 500% since 2006 even with just 10 months of 2020 documents included. Unique companies discussing drones in their filings has grown 400% from 40 companies in 2006 to over 160 so far in 2020.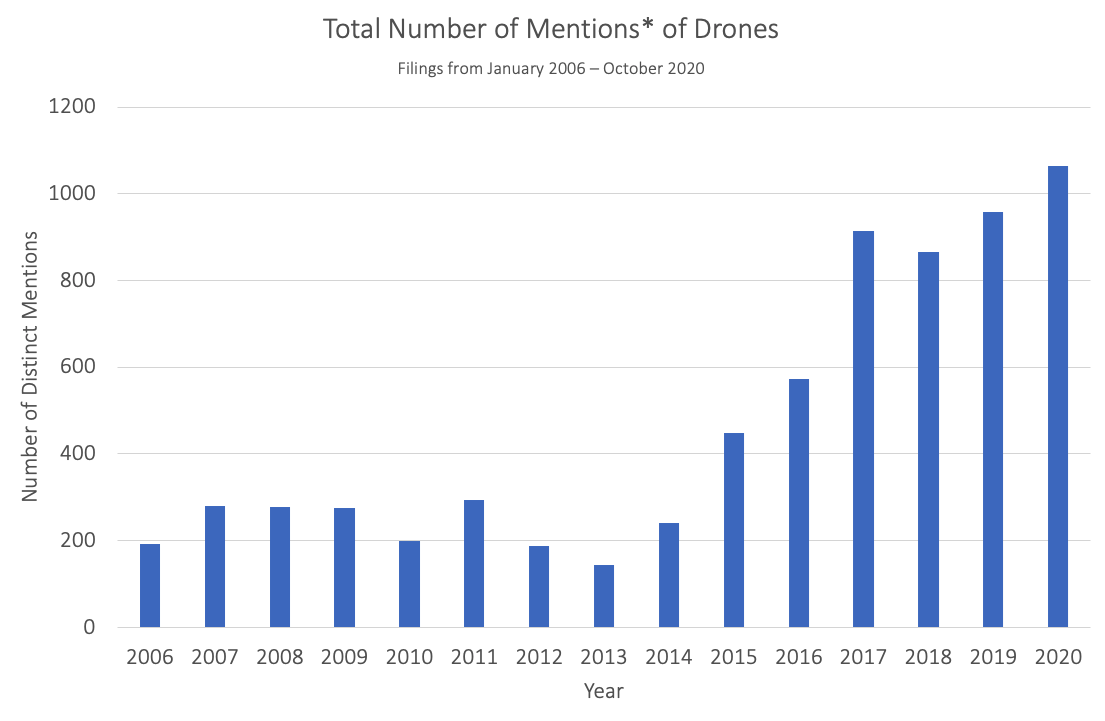 *A mention is defined as a unique paragraph that contains one or more words from the Drones Topic Model in any SEC Filing.
Below are the top companies mentioning drones in their regulatory filings. Many of these companies are not the typical Fortune 500 companies that mention drone usage as a buzz word. The companies most frequently hit are companies that build drones and work with the drone AI technology. Amazon, one of the more media mentions of Companies 'using' drones through Amazon Prime Air, only mentions a drone related term once in both their most recent 10-K and 10-Q. Prime Air is not mentioned in either document. When making a thematic portfolio for drones, it would not make sense to include Amazon because Prime Air is not a central enough part of their business to mention in their filings and, as of now is not manufacturing drones.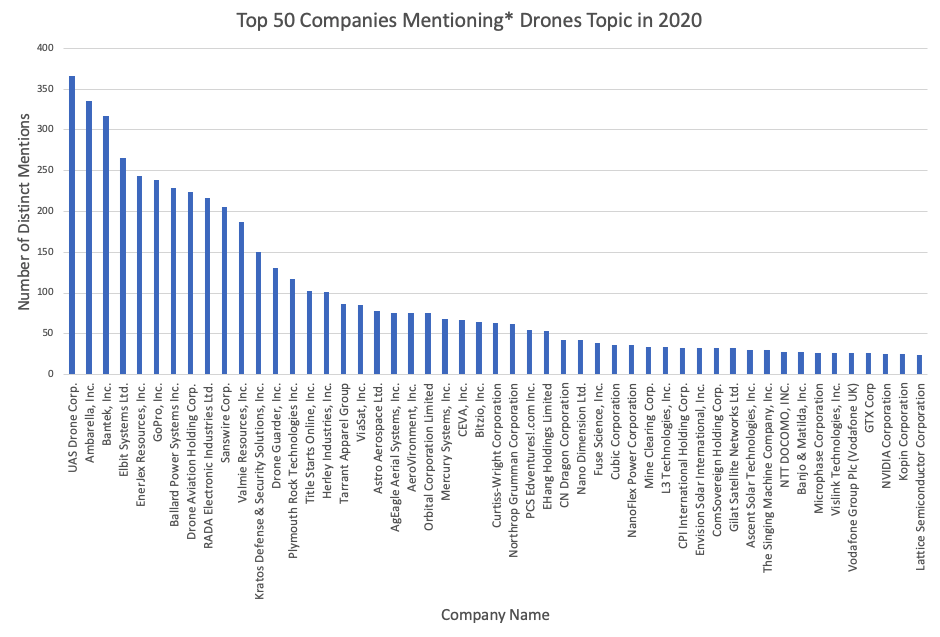 The companies mentioning represent a variety of sectors. The top two sectors are information technology and industrials. Those are the companies that build and develop the technology for drones and use drones for delivery. Other sectors use drones in a variety of ways. For example, Allstate, in the financial sector, uses drones to analyze crash sites for their insurance claims. Goldman Sachs uses Drones in its investment banking arm. It makes sense to include companies from a variety of sectors when creating a thematic portfolio while at the same time having a higher weight on the more relevant sectors.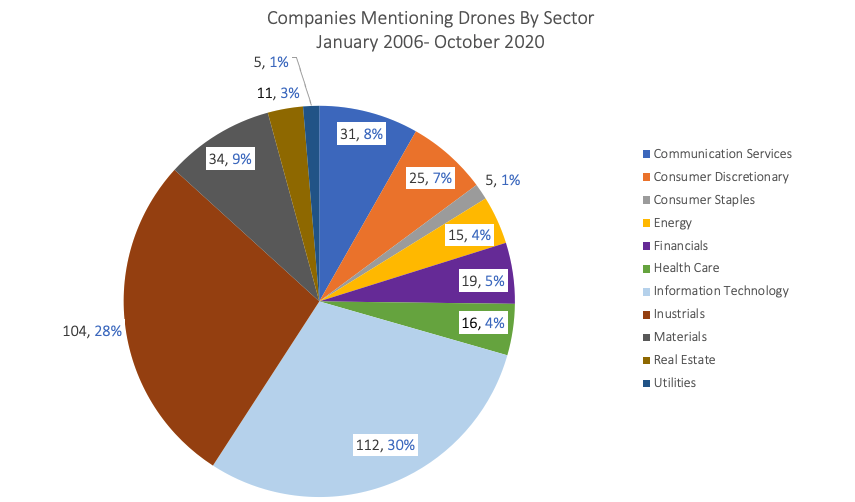 Today's Macro and Technology Themes are unprecedented and cover a multitude of emerging "Themes" from Drones to ESG to Genome Research to Biometrics, etc. The investment potential is unlimited. Thematic Investing is becoming a powerful vehicle across investments wrappers such as ETFs and Structured Products, as well as, in Portfolio holdings by Hedge Funds and Asset Management. Prior to Machine Readable Filings (MRF), capturing data within Regulatory Filings and Company Reports was difficult to impossible. The MRF data is broad across Sectors and can include Global and or U.S. listed Companies. The data can be run on any timeframe including Monthly and Quarterly for portfolio reconstitution. As you can see Social Market Analytics' ability to read and classify documents is a powerful tool for your investment process. To learn how Social Market Analytics (SMA) can help you instantly search for Thematic Investing themes using Machine Readable Filings (MRF) SEC Edgar Filings and SMA's Complex Topic Model engine please ContactUs@SocialMarketAnalytics.com.