SPAC - SMA Releases Real Time Quantitative SPAC S-Factor Data Feed
Social Market Analytics, Inc. is excited to announce its newest live API data feed: SPACs as an Asset Class. SPACs, Special Purpose Acquisition Companies, are exploding as a direct listing and replacing IPOs in many cases. Since there is very little information on these 'blank check' companies other than limited SEC Edgar Filings, Social Media captures all conversations on the shell company including rumors and announcements well before traditional media outlets.
Why SMA's SPAC Data Feed Matters …
SPAC announcements by SoFi, 23andMe, QuantumScape, Iridium, and DraftKings are a clear sign that higher quality companies are choosing SPACs as the route to the public market.
SMA's SPACs as Asset Class captures the full cycle of a SPAC listing through the acquisition and listing of the acquired company.
Once an announcement of an acquisition occurs the 'Topic Model' for the new company is included in the Acquisition Company Topic Model. This is critical to capture quantitative metrics in the period leading up to the new Acquired Company publicly listing with its own $Ticker. Once the Acquired Company is listed, it will remain in the SMA SPAC Asset Class and will publish in SMA's U.S. Equity S-Factor data feed.
ChargePoint hits Extreme Positive on API well before Stock Price:
The SMA SPAC Data set provides  clients with information well ahead of tradition media outlets. Below is a visualization of the S-Factor API data on $CHPT on March 31, 2021: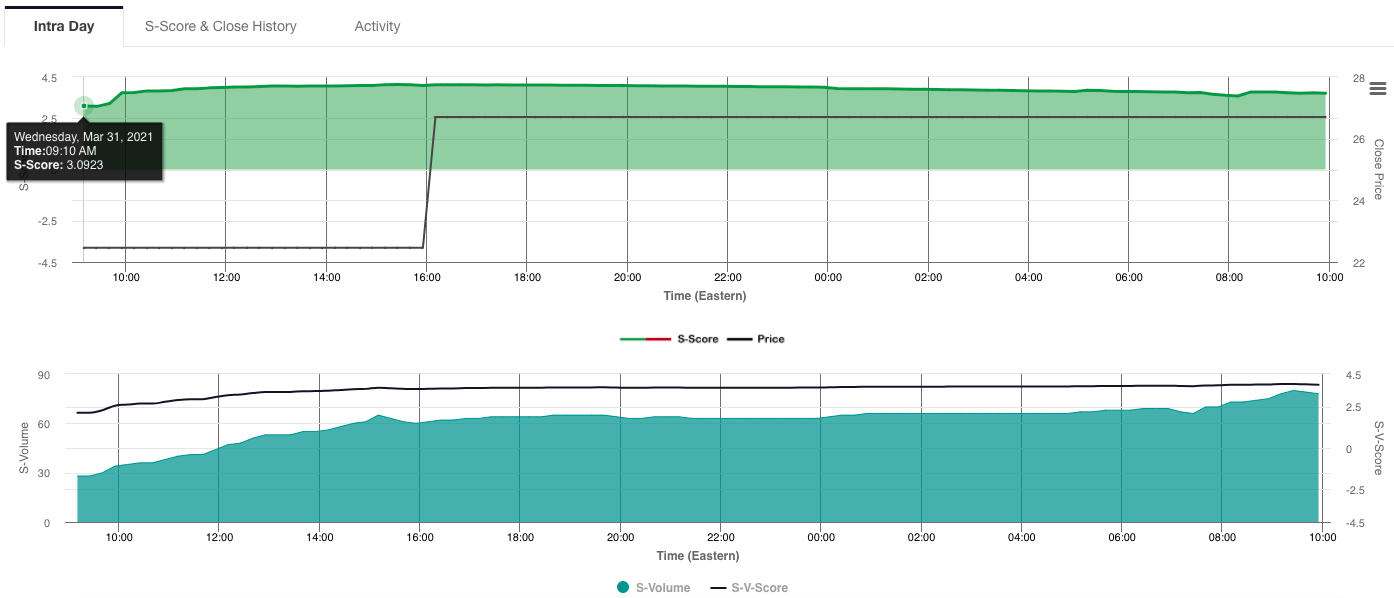 Shares of leading EV charging company ChargePoint Holdings (NYSE:CHPT) were about 14% higher than Tuesday's closing price, as of 1:30 p.m. EDT. Reports of potential legislation being introduced by President Biden about plans for a national electric vehicle (EV) charging network drove Social Media Sentiment. U.S.-based electric vehicle charging network company, ChargePoint, began trading on the New York Stock Exchange on March 1, 2021, following the completion of its business combination with Switchback Energy Acquisition Corporation.
Why SMA Topic Modeling Matters …
Topic Modeling goes far beyond $Tags and #Tags. SMA's Machine Learning Topic Modeling has been developed since 2011 in a supervised and unsupervised environment that includes both inclusions and exclusions. In the Tesla topic model, for example, Nikola Tesla would be excluded and SolarCity would be included. In the SPAC data feed, the SPAC Topic Model would include both the 'Acquisition Corp.' and the 'Acquired Firm' capturing all news until the acquired firm lists under its own $ticker.
SMA SPAC S-Factor Real Time API Factor Fields across Sentiment NLP and Volume
SMA has 3+ years of historical S-Factor SPAC data going back to October 2017 and provides live updates every minute. The S-Factor Feed provides 15 factor data fields including S-Score (a Z-Score), S-Volume, and SV-Volume (volume on a standard normal curve). S-Score is based on SMA's Sentiment NLP developed over 10 years. SMA fine grain scores each Tweet with up to seven passes capturing and scoring words and phrases to arrive at each individual Tweet Score from -1.0000000 to +1.000000. SMA then aggregates Sentiment of all Tweets at the Security level. The S-Factor feed is a 24H lookback with a 20D baseline. S-Factors can be used for D, W, M, and Q baselines. SMA offers four APIs including a 300 millisecond HFT feed.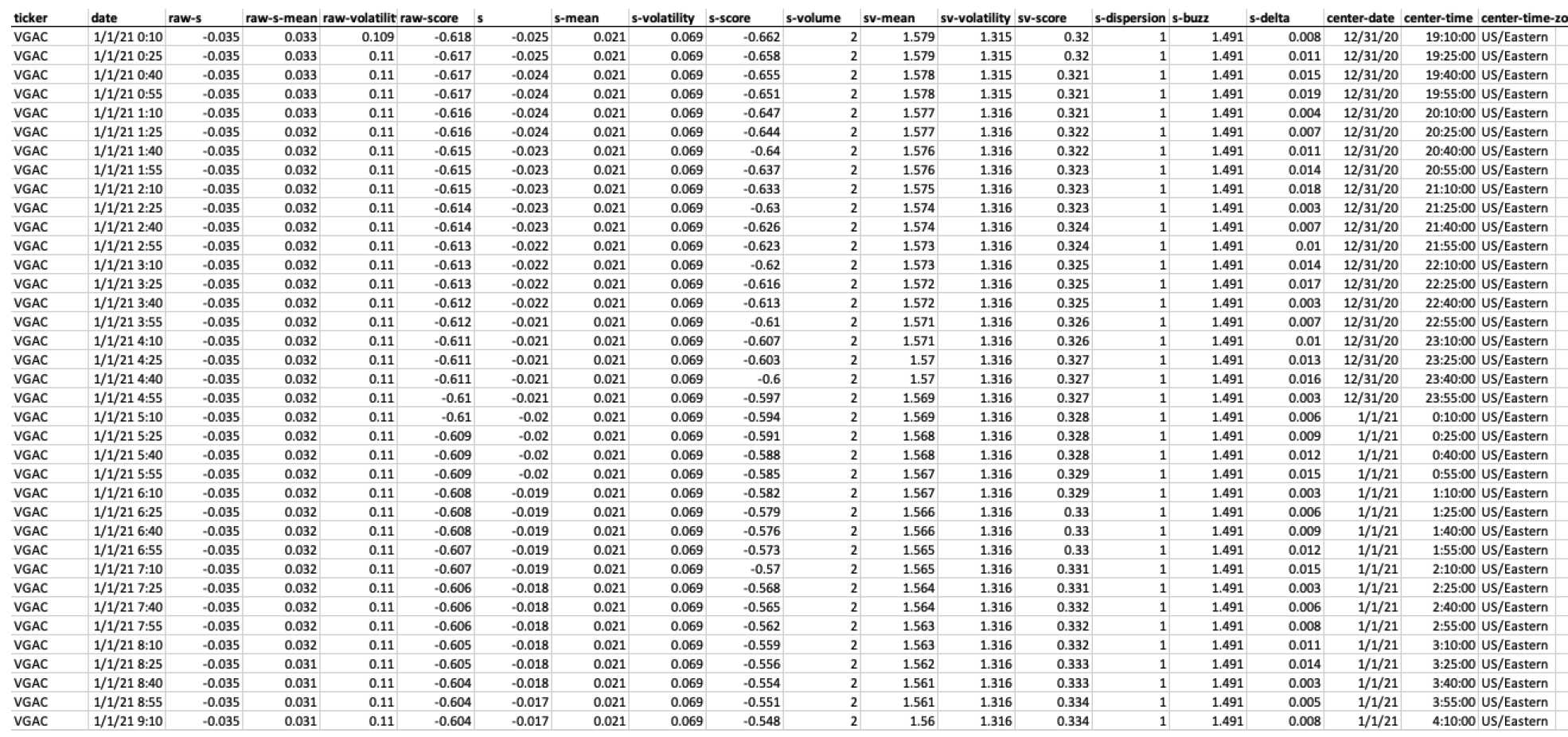 SMA SPAC Ticker Signals and SPAC Twitter Volume (2017 to present)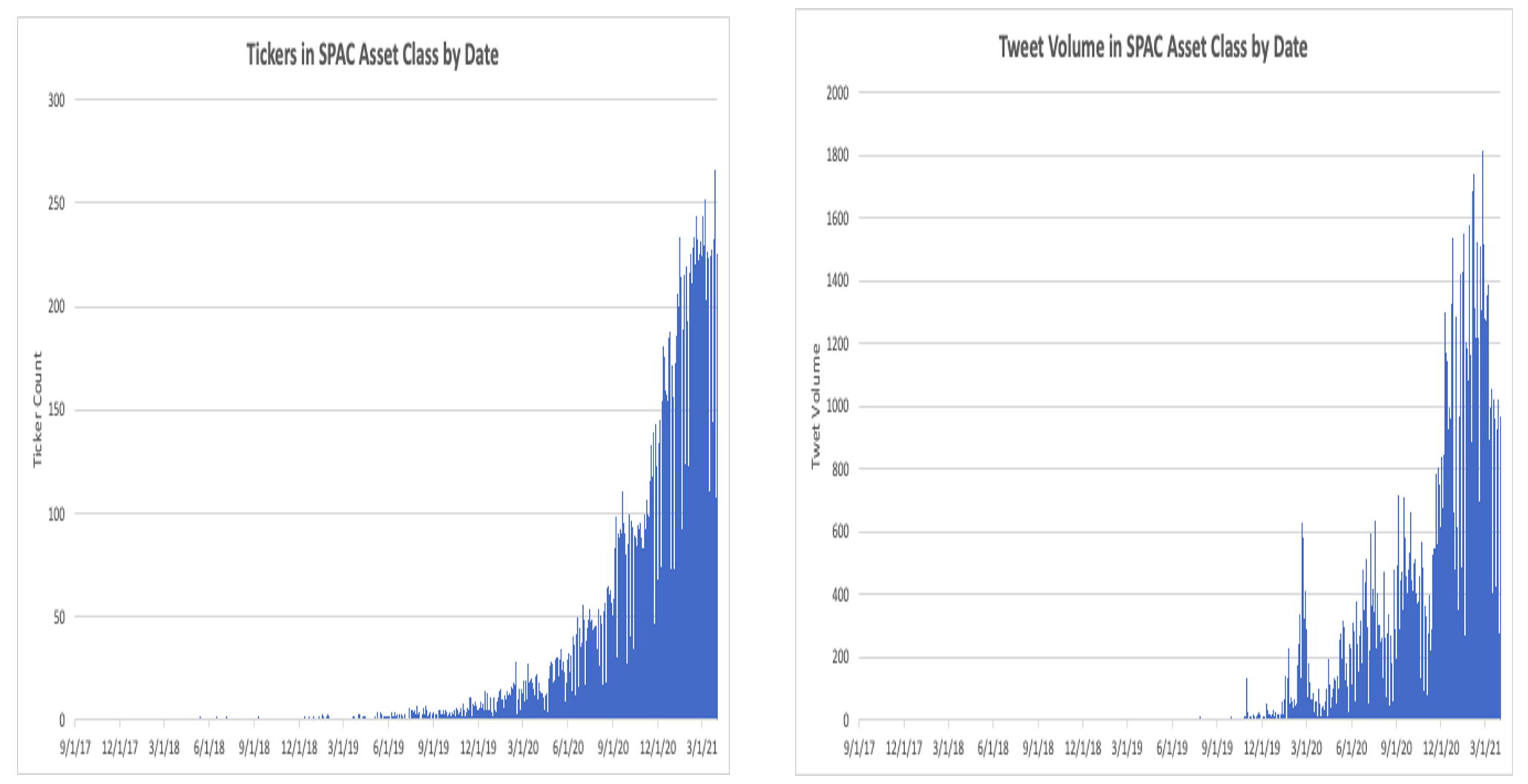 (SPAC Deals and Size 2017 to Present*
2021 SPACs raised $88 billion YTD across 298 deals*
2020 SPACs raised $83 billion across 248 listings.
2019 SPACs raised $13.9 billion
2018 SPACs raised $10.7 billion
2017 SPACs raised $10.0 billion
*Q1 2021
About Social Market Analytics:
SMA is a leader in unstructured financial data from Social Media to Machine Readable Filings (MRF) across U.S. Edgar Filings and Global Annual Reports. SMA is a preferred Twitter partner and partners with S&P Global Market Intelligence on Machine Readable Filings (MRF).
Founded in 2011, Social Market Analytics, Inc. goal is to harness the massive amount of unstructured financial data across both Alternative and Traditions sources into machine readable textual data feeds for Quantitative and Quantamental analysis.
SMA's DNA goes back to its predecessor firm Quantitative Analytics, Inc. (QA Direct) which was acquired by Thomson Reuters (Refinitiv)
SMA's Patented processes are unique in the emerging field of Machine Learning, Financial Sentiment Natural Language Processing Textual Parsing, and Source Accuracy.
SMA Website: www.socialmarketanalytics.com
Contact: Doug Hopkins at doug@contextanalytics-ai.com